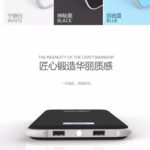 Aspor A386 12000mAh Power Bank With LED Digital Display
৳ 2,270
Power bank 10000 mAh/37wh
Input : DC 5V-2.0A
Output : 1/2
Total : DC 5V-2.4A(IQ)
Micro USB Cable
Description
Additional information
Reviews (22)
Description
Aspor A386 12000mAh Power Bank With LED Digital Display
Aspor A386 Power Bank 12000mAh/44.4Wh input- DC 5V-2.0A output : 1/2 DC 5V-2.4A (IQ) Micro USB Cable. Keep your smartphones and tablets charged for days on finish while not each finding out a wall socket! whether or not you're at work, at the park, or on AN journey within the mountains, it completely stinks once your smartphone or pill runs out of battery power and you're stuck while not a association to your friends and family. But due to the Aspor Dream good Power Bank, you'll be able to be the go and keep your devices absolutely charged for days on finish while not ever having to succeed in for a wall plug. Portable, compact and light-weight, the Aspor a386 Power Bank offers universal compatibility with all of your favorite smartphones, tablets and mobile devices. Whether you would like a external battery power bank for your Samsung Galaxy or the most effective charger for your iPhone half-dozen, our external charger can extend the facility of every and each one amongst your devices, so you ne'er ought to bog down, be while not contact or miss out on sports scores. Best online shop in Bangladesh.

Power your life on the go with the ASPOR 12000mAh Slim Power Bank. This super slim power bank uses the latest in thin-pack lithium technology to store up to 4 full phone charges and 1 full tablet charge in a sleek aluminum body. Slide it into any backpack or laptop sleeve and hustle through your morning commute or TSA security checkpoint with all the power you need for the day. The low-profile, black design looks at home in any environment — from living room to meeting room.

Not all power banks are the same. As in all veins of consumer tech, there are cheap ones and pricey ones, and sometimes you're paying simply for a name. But there's so much more to choosing a portable charger than finding the cheapest version you can.
Also, you can head to the bottom of this page to learn more about how to choose the best power bank, with some answers to frequently asked questions.
We want the fastest charging speeds – for recharging the bank itself and for charging a connected phone – and to know at a glance that a portable charger is going to get us through the day with juice to spare, even share. But we don't want it weighing down our pockets.
We want multiple ports for charging additional gadgets, and more efficient use of power outlets to free up sockets. We don't want to carry multiple charging cables – in fact we don't want to carry any cables at all.
Design and capacity are most important, sure, but what about wireless or even solar charging? What about an LCD screen? Waterproofing? Don't you want the coolest and most convenient power bank you can get for your money without paying over the odds?
While the best power banks may not seem like the most exciting pieces of tech imaginable, having a good one on hand can really help you out of a jam. After all, when you're out on the move, running out of power for your phone and other devices can be not only annoying, but disastrous. Having one of the best power banks on hand is an easy way to make sure this simply doesn't happen.
With a selection of tried and tested power banks that have passed our way for review, this guide is the perfect way to find the ideal power bank for your devices. We've listed all the pros and cons of each option according to our findings, and our IASPOR site also pulls in the latest prices, so you can be confident you're getting the best deal.
What is the price of the Aspor A386 12000mAh Power Bank With LED Digital Display in Bangladesh?
Aspor authorized distributor of Aspor A386 12000mAh Power Bank With LED Digital Display in Bangladesh. You can buy the Aspor A386 12000mAh Power Bank With LED Digital Display at best and dealer price from Our Head Office (Dhaka, Naya Paltan) or Eastern Plaza showrooms. We have dedicated Technical engineers to assist all over Bangladesh. Total set-up and after-sale support can be ensured at the best price. To know more details please Contact Us on our Facebook Page or 01844944091.