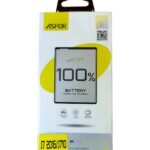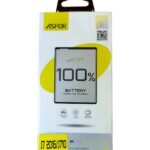 ASPOR SAMSUNG J7-2016 BATTERY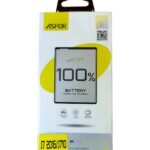 ASPOR SAMSUNG J7-2016 BATTERY
৳ 1,040
৳ 1,040
Brand: Aspor
Model:j7 prim Samsung battery
Capacity: 3300 mAh /12.71 wh /3.8v
Description
ASPOR SAMSUNG J7-2016 BATTERY
Aspor-J7 Prim Samsung Battery 3300 mAh In Bangladesh. the j7 Samsung battery capacity 3300 mAh 12.71 wh 3.8v. The best mobile phone battery.
Best performance For J7 Samsung Battery :
In other words, use your original charger and cable which come with your phone to charge this battery. Remember that its full performance and longevity are only achieved after 3 to 5 complete charge and discharge cycles.
HIGH CAPACITY BATTERY:
The galaxy j7 prime battery is made of the high-quality Li-ion battery cell, the advanced technology makes this replacement battery capacity up to 3300mAh and provides you a high-speed and efficient charging. As a result up to 48 hours of long-lasting time, bring your battery's life back to glory and save money.  Above all choose battery restore your phone to like-new performance!
STRICTLY DOUBLE-TESTED:
After that our battery uses Grade A-rated battery cells to ensure longer battery life (500 cycles) and high-speed, efficient charging.  However every Samsung j7 battery replacement is manufacturing and testing under strict quality control standards.   Built-in microchip to prevent over-charging, over-discharging, short-circuit, and over-heating.
What is the price of the ASPOR SAMSUNG J7-2016 BATTERY in Bangladesh?
Aspor authorized distributor of Aspor Battery in Bangladesh. You can buy the ASPOR SAMSUNG J7-2016 BATTERY at the best and dealer price from Our Head Office (Dhaka, Naya Paltan) or Eastern Plaza showrooms. To know more details please Contact Us on our Facebook Page or 01844944091.