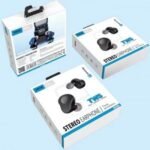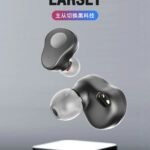 Aspor A606 5.0 Stereo Bluetooth Earphone / True Wireless
Aspor A606 5.0 Stereo Bluetooth Earphone / True Wireless
৳ 2,200
৳ 2,200
Frequency: 20-2000 Hz
Battery capacity :Single 40 mAH
Charging Time : < 1 H
Call Duration : <4 H
The Power Case : 380 mAh
Bluetooth:  5.0 
Description
Aspor 606 5.0 Stereo Bluetooth Earphone/ True Wireless
ASPOR Earphones (or earbuds, or in-ear headphones) offer a slightly different sound profile compared with conventional headphones. Generally, you get better sound from a full set of "cans" around your head than from buds in your ears, but in-ear sound quality has improved a great deal. More importantly, in-ear headphones are much more likely to be water-resistant and much better suited for use when working out. Get a good sweat going and the earpads of your headphones turn into a nasty mess. For our top picks, check out the best earphones, the best headphones for running, and the best true wireless earphones for running.
If you aren't primarily looking for a set of wireless earphones for the gym, conventional headphones can offer a very good listening experience. You'll still have to choose between on-ear and over-ear models, however. On-ear headphones rest the earcups against your ears but don't surround them. Over-ear headphones completely enclose your ears. Over-ear headphones block out the most outside noise and usually provide a more powerful, rich sound, but on-ear headphones are less bulky and distracting to wear when you're out and about. See the best headphones for more.
Features:
Frequency: 20-2000 Hz
Battery capacity: Single 40 mAH
Charging Time : < 1 H
Call Duration: <4 H
The Power Case: 380 mAh
Bluetooth:  5.0
What is the price of the Aspor 606 Bluetooth 5.0 Stereo Earphone in Bangladesh?
Aspor authorized distributor of Aspor 606 Bluetooth 5.0 Stereo Earphones in Bangladesh. You can buy the Aspor 606 Bluetooth 5.0 Stereo Earphone at the best and dealer price from Our Head Office (Dhaka, Naya Paltan) or Eastern Plaza showrooms. To know more details please Contact Us on our Facebook Page or 01844944091.