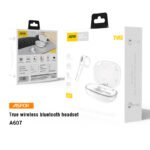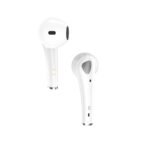 Aspor A607 Bluetooth Headset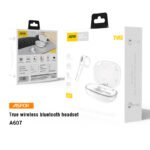 Aspor A607 Bluetooth Headset
৳ 3,200
৳ 3,200
BLUETOOTH VERSION 5.0 MUSIC PLAYBACK TIME 5 HOURS
SIGNAL TO NOISE RATIO >70 DB TALK TIME 4 HOURS
FREQUENCY RESPONSE RANGE 20HZ-18.5KHZ TRANSMISSION DISTANCE 10 M
CHARGING INTERFACE USB TYPE-INTERFACE SPEAKER SPECIFICATIONS 13 MM 32Q
COMPOSITE MEMBRANE SPEAKER (WITH HEAVY BASS SOUND)
Description
Aspor A  607 Bluetooth Headset
Headphones most typically have dynamic drivers, while earphones may have dynamic drivers or balanced armature drivers. Especially in headphones, dynamic drivers are the most common, because a larger dynamic driver—which the ear enclosure for a pair of headphones can accommodate—can get louder and produce more bass depth. In earphones, the dynamic drivers have to be much smaller; this can often affect bass response.
BLUETOOTH VERSION 5.0 MUSIC PLAYBACK TIME 5 HOURS
SIGNAL TO NOISE RATIO >70 DB TALK TIME 4 HOURS
FREQUENCY RESPONSE RANGE 20HZ-18.5KHZ TRANSMISSION DISTANCE 10 M
CHARGING INTERFACE USB TYPE-INTERFACE SPEAKER SPECIFICATIONS 13 MM 32Q
COMPOSITE MEMBRANE SPEAKER (WITH HEAVY BASS SOUND)
What is the price of the Aspor A 607 Bluetooth Headset in Bangladesh?
Aspor authorized distributor of Aspor A 607 Bluetooth Headset in Bangladesh. You can buy the Aspor A 607 Bluetooth Headset at best and dealer price from Our Head Office (Dhaka, Naya Paltan) or Eastern Plaza showrooms. To know more details please Contact Us on our Facebook Page or 01844944091.