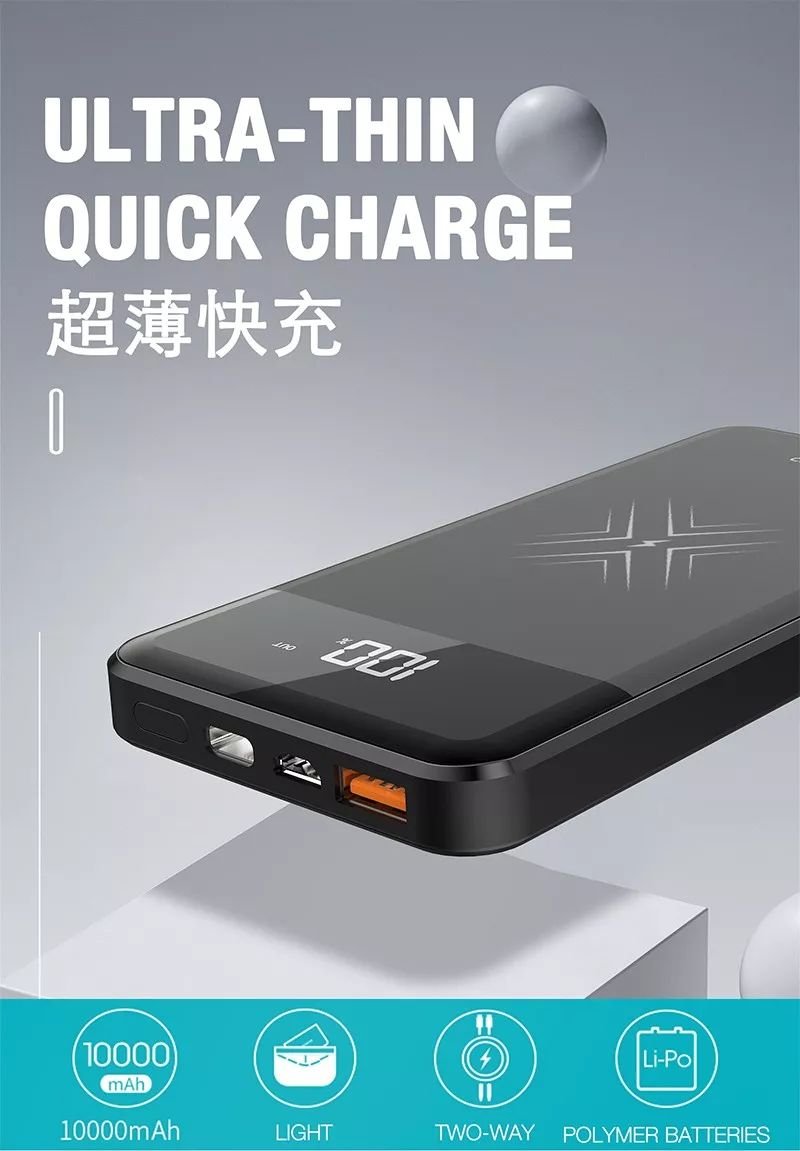 Aspor A361 PD 10000mAh Wireless Power Bank
Aspor A361 PD 10000mAh Wireless Power Bank
৳ 1,800
৳ 1,800
Model: A361 PD
Color: Black
Batteries: Polymer batteries
Battery capacity: 10000mAh/37Wh
Description
Additional information
Reviews (25)
Description
Aspor A361 PD 10000mAh Wireless Power Bank
A361pd wireless power bank 10000 mah capacity 37 w. The best quality power bank with a led digital display. Aspor the best online shop in bd.
We want multiple ports for charging additional gadgets, and more efficient use of power outlets to free up sockets. We don't want to carry multiple charging cables – in fact we don't want to carry any cables at all.
Design and capacity are most important, sure, but what about wireless or even solar charging? What about an LCD screen? Waterproofing? Don't you want the coolest and most convenient power bank you can get for your money without paying over the odds?
Not all power banks are the same. As in all veins of consumer tech, there are cheap ones and pricey ones, and sometimes you're paying simply for a name. But there's so much more to choosing a portable charger than finding the cheapest version you can.
Also, you can head to the bottom of this page to learn more about how to choose the best power bank, with some answers to frequently asked questions.
We want the fastest charging speeds – for recharging the bank itself and for charging a connected phone – and to know at a glance that a portable charger is going to get us through the day with juice to spare, even share. But we don't want it weighing down our pockets.

While the best power banks may not seem like the most exciting pieces of tech imaginable, having a good one on hand can really help you out of a jam. After all, when you're out on the move, running out of power for your phone and other devices can be not only annoying, but disastrous. Having one of the best power banks on hand is an easy way to make sure this simply doesn't happen.
With a selection of tried and tested power banks that have passed our way for review, this guide is the perfect way to find the ideal power bank for your devices. We've listed all the pros and cons of each option according to our findings, and our IASPOR site also pulls in the latest prices, so you can be confident you're getting the best deal.
What is the price of the Aspor A361 PD 10000mAh Wireless Power Bank in Bangladesh?
Aspor authorized distributor of Aspor A361 PD 10000mAh Wireless Power Bank in Bangladesh. You can buy the Aspor A361 PD 10000mAh Wireless Power Bank at best and dealer price from Our Head Office (Dhaka, Naya Paltan) or Eastern Plaza showrooms. We have dedicated Technical engineers to assist all over Bangladesh. Total set-up and after-sale support can be ensured at the best price. To know more details please Contact Us on our Facebook Page or 01844944091.